We Take You Sailing!
Welcome aboard the sailing yacht,
"Amethyst"
"Our Mission is to provide you a safe and magical ocean sailing
adventure aboard a traditional wooden sailing yacht, in the beautiful waters of Southern California."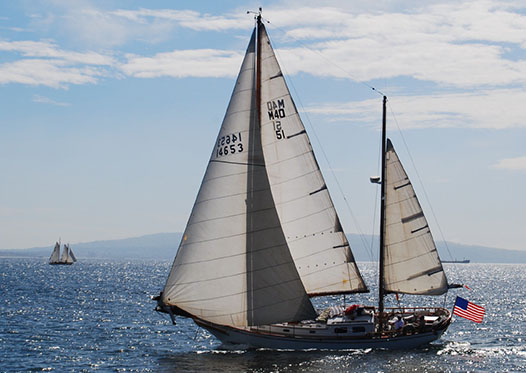 We are a Private Sailing Charter in Marina del Rey, located ten minutes from Los Angeles Airport. (LAX) Plan a day sail tour or Catalina Island overnight vacation Sailing in Marina del Rey! 6 passengers max.
Day sailing, a harbor cruise, a romantic private dinner cruise or a spectacular 4th of July fireworks Pacific Ocean sunset cruise at sea are perfect activities for your special occasion or weekend getaway. Check out the links on the Navigation Bar, on the left, for occasion specific sailing charter adventure ideas! We are the best sailing charter in Marina del Rey area, sailing yacht in Los Angeles California! Whew!
Perfect for Mother's Day, Father's Day, Valentine's Day and Anniversaries! Or any day you feel like catching a ray of sunshine, getting out of the city and being amongst nature!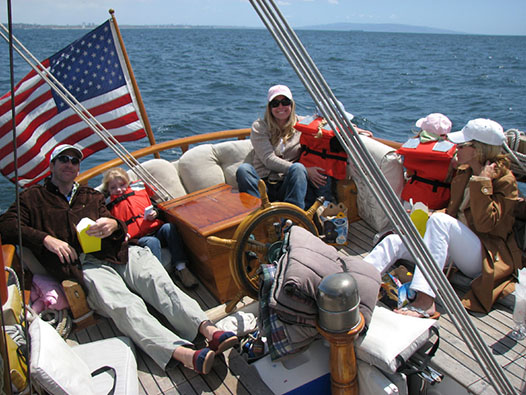 Take your family, friends or a special someone on a private sailboat charter tour sailing in Los Angeles along famous Venice Beach and Santa Monica Beach. Sail along the famous Malibu Beach coast whilst eating, drinking and relaxing in the warm California sunshine. Bring your own picnic basket, or we'll help arrange for food.
A private Los Angeles sailing charter in the Santa Monica Bay, with Malibu Beach, Venice Beach and Avalon Catalina Island Long Beach within an easy day sail, is a relaxing and fun sailing ocean adventure. Feel the wind in your hair and breathe the fresh sea air. Sunbathe and relax in the California sun, and explore our local waters in style aboard a truly beautiful sailboat.
Plan a day trip sailing in Marina del Rey Santa Monica Bay. sail to Malibu to see whales, dolphins, seals sea lions and all manner of abundant aquatic marine wildlife. They are best seen from an elegant and quiet wood sailboat.
This is sailing and the sea at its finest.