"Amethyst" is a perfect yacht for this timeless sea tradition,
and to be chosen is our honor.
Best choice for Marina del Rey ash scattering and ashes at sea in Los Angeles. You can bring up to 6 Passengers $560 total cost. You will receive a beautiful "Keepsake Memorial Document" on glossy paper which I will mail to you, with the Latitude and Longitude of where we were. We can ash scatter in Santa Monica or Venice Beach or ash scattering in Malibu, Mahattan Beach or Hermosa Beach, Redondo Beach. Coffee and tea, bottled water, fresh fruits and pastries are complimentary. Amethyst is a beautiful yacht and has very comfortable and spacious seating as well. Please read these Testimonials from previous guests. Call me anytime Capt Mack 310 822 750
Morning hours are best for scattering ashes in santa monica bay, as the seas and wind are light earlier in the day. Starting at 8-9 am, we will depart Marina del Rey and proceed to sea. It takes 45 minutes to reach 3 miles offshore, a distance which has the feel of "being out at sea." Six passengers maximum. For larger groups, consider having extra people view conveniently from shore from the Venice Pier or Santa Monica Pier. With cell phones set to speaker phone, it's as though they are aboard. Unattended ashes at sea memorials and viewed from shore ash scatter are good optons; please call me to discuss this.
Upon reaching our sea memorial location, we will stop, and I will suggest that you and your group assemble on the fore deck. There in the blue of the vast Pacific Ocean, you, your family and friends will say final farewells while placing the ashes on the sea and your flowers upon the water.
We will slowly circle around the floating flowers several times, giving everyone time and chance to reflect. When you feel the time is right, give your Captain a nod, and we will slowly turn back to land, leaving this sea memorial behind us. A very beautiful morning spent at sea aboard a classic yacht.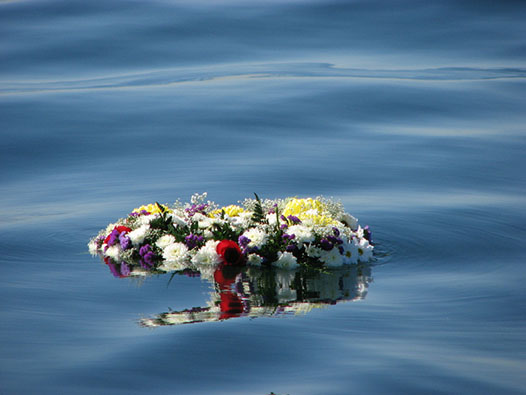 We will be at sea about 2.5 hrs, depending where we decide to go, and the total price is 560.00 total. You will receive by mail a beautiful keepsake memorial document stating the exact latitude and longitude of your Memorial at Sea, suitable for a photo album, or sending to other family members not attending. Call me to discuss any aspect of this; "Amethyst" shall be at your call.
Call me any time day or night. Sincerely,
Capt. Mack 1 310 822 7550
Capt Mack is legit... Cremated Remains Disposer Certification #1032