Catalina Sailing Adventure!
Hello Sailors!

Sailing to Catalina is a great day spent on the water, looking for dolphins, and relaxing in the sun! When it's whale season, maybe we'll see some!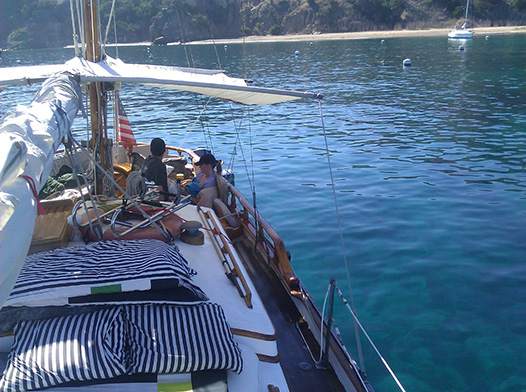 The Catalina run to Avalon is 7-8 hrs of sailing and some times "motorsailing" with the engine on to assist the wind.
The Catalina run to Avalon is an all day trip, at a flat rate of $1400.00. This includes drinks and snacks, of your choosing. I can obtain lunch for you, or you can bring your own picnic.
Before we arrive at Avalon or the Isthmus we will tour along the coast of the Island, looking in on the many beautiful anchorages and inlets.

AVALON:
Some hotels at Avalon that I like, check out the links... and this web camera! Zoom in on different areas around the island! Click Here!
Pavilion Lodge: right on the waterfront not real fancy but clean and very reasonably priced.
Glenmore Plaza Hotel: Very nice, with a really fantastic view in the top room.
St. Lauren Hotel: Cool old Victorian building with great staff and great views. OV-5 room. (ocean view)
Snug Harbor: Quaint atmospheric "theme rooms". It's like staying in a nice house.
Hotel Metropole: Very fancy, and recently renovated antique art deco vibe, good restaurant downstairs.
Avalon Hotel: Fancy, Art deco and also recently renovated.
Also, consider spending a second night at Two Harbors, on the west end (opposite end) of the Island, at the Banning House Lodge. We pick you up at Avalon, at lunchtime on your second day, then take you to the "Isthmus". You will spend the afternoon sailing up the Island, then the late afternoon and evening at and around the Banning Lodge. Dinner at the "Harbor Reef" Restaurant. This is the "real deal" as far as Catalina authenticity goes... The third day we sail home, 5-6 hours. The Isthmus is closer than Avalon to Marina del Rey by 1-1/2 hours.)
Here is the Catalina Two Harbors website... ahhhh... the peace and quiet...Catalina Two Harbors Website
Live Webcam Two Harbors Banning House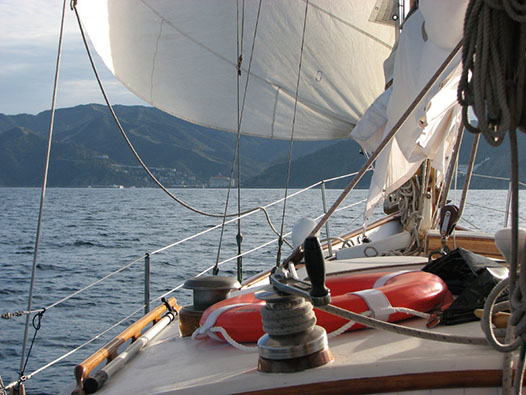 ISTHMUS / TWO HARBORS: (Two Hrs closer)
I suggest a sail over to the Isthmus, spend the afternoon checking out the island by boat. Spend the night ashore at the Banning Lodge and have dinner at the "Harbor Reef" Restaurant. Breakfast at the Banning House, then sail to Emerald Bay, for a fun day trip before sailing home. This is a lot of fun.

Sailing the local waters of Santa Monica Bay is also very enjoyable, and here are rates for some daysails... call me for specials!

3 hour daysail, to Santa Monica/Malibu and back............$840.00
2 hour daysail, along the Venice Beach/Santa Monica......$560.00
1 hour Harbor Cruise, tour the Marina...........................$280.00

Thanks for your interest, and if there is anything more specific you would like to know, please ask. Contact Us



|Back To Top|